How to Order Cladding the Right Way!
You have decided to incorporate cladding into your build, great! However, with many choices of cladding material out there, ordering your cladding can be a difficult task! As always we want this process to be as easy as possible for our customers, which is why we have answered the top asked questions we receive when it comes to ordering cladding!
See before you buy!
First things first, we recommend purchasing samples or coming to our showroom area where you will receive a free goody bag which includes a brochure pack with all the information you require and samples of your choice. This allows you to see what the end product will look like which will help you choose the best material for you. It is important to bear in mind that since timber is a natural material, the grain structure and colouring can vary in some cases. This is because every natural board is different. In our experience, this only adds to the character of each board.
Cladding Vs the English climate.
Ensure that your cladding material can withstand the fluctuations in the UK climate. Our thermally-modified timber is so stable, that the height and exposure to the elements do not affect the durability of the timber as they are more than adequate for installation on any side of a building. The only thing you will notice is that south-facing elevations will weather quicker than north-facing if you do not apply Messmers UV Plus Oil to the natural timber.
*This customer chose to use our ThermoChar® Medium Ash in the above project.
Mixed length or fixed lengths boards?
Customers are now recognising the benefits of using a range of board lengths on a project and its popularity is increasing. By using mixed-length cladding and decking boards, you can create an appealing finish full of character, bringing life to the outside of your house as each board exhibits different grain textures and colour tones, showing the richness of each board, enabling you to break up long and flat façades. You can read our full blog on this topic here.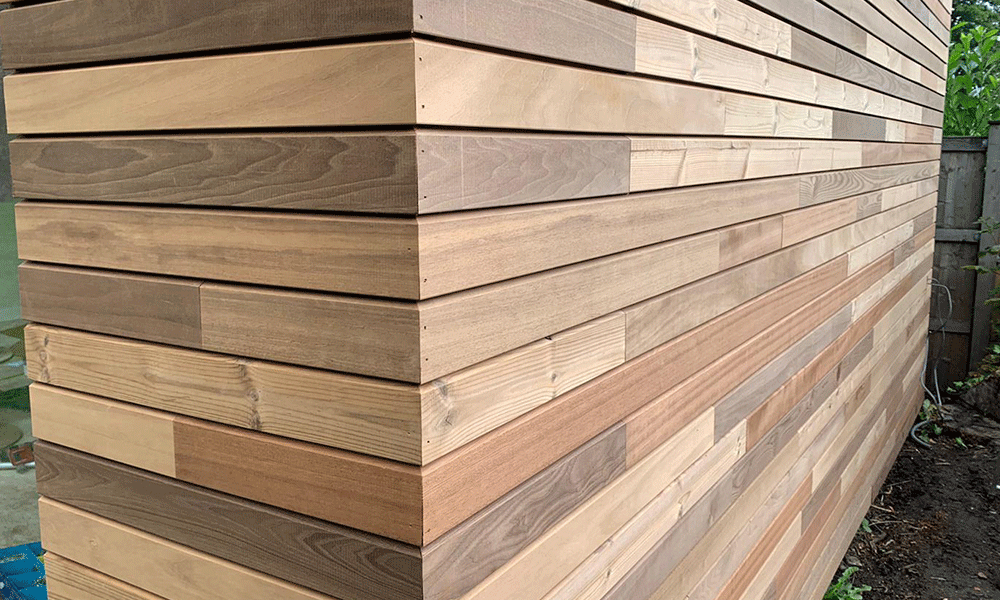 *This customer chose to use 5 different species of Thermowood Pine, Ayous, Tulipwood, Ash and Iroko Softwood and Hardwood.
Fire treating your cladding.
If your building is within one metre of a neighbouring elevation or above 18 metres high then building control will advise you need to get your cladding fire treated. Upon request, we can apply a fire treatment to your material which will have no visual change to the appearance of your cladding. You can find out more about fire ratings here.